Optimism, positiveness and cheerfulness are not my prominent characteristics. In fact, you'd be hard pressed to find traces of them in me...
But you sure as hell will drown in the tsunami of joviality that pours out from the music of
Moon Safari
.
Now normally, I probably would not have liked this type of music and this sort of lyrics (see the case of Magic Pie and in particular the song Change from Motions of Desire); but this band makes music so lovely and beautiful that I can't resist it.
Both their albums are superb and with a new one coming out next month (end of October hopefully), I thought that I'd post my review of their second double album: [
Blomljud
] from 2008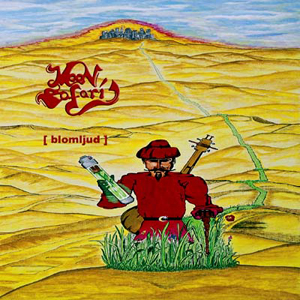 I am not an optimistic person. I am not a very positive and constructive type too. I am prone to see the empty half of the cup rather than the full one. Being diagnosed with depression, I'm not one to look for hippie happy music and start roaming about how much beauty there is in the world and how much we all need some love? In fact, I usually run away from such things. Much of the music I listen to is dark, depressing (in lyrics and mood) and melancholic. I do however listen to (and love) uplifting, upbeat and cheerful music. Though I do have a problem listening to saccharine and sweet lyrics.
Which is why I was somewhat surprised that the music and lyrics of Moon Safari have not turned off. In fact, Magic Pie's music and lyrics has done just that to me. It's so sweet and naively positive that it just ruins the music and the enjoyment for me. But for some reason, not only does Moon Safari's music cling with me; it has also become a favourite of mine. Its peaceful, positive vibe and cheerfulness have struck a chord within me. Their first album, A Doorway To Summer is a beautiful album filled with lovely tunes and I was looking forward to this double album. Indeed, they carry on what they started. In here as before, the music features their harmonic vocalizations, their sweet and beautiful melodies, their catchy tunes, the musicianship, their influences from before (Beatles, Beach Boys and glorified symphonic prog of old and new like Genesis and the Flower Kings), the clear production sound and the overall positive ambience.
So why do I, being the way I am, am clinging so tightly to music of this sort? Well, the answer is to be found in the music; in the resonance it creates with its haunting harmonies, its spellbinding tunes, magnificent keyboards work and stunning vocals. And you know what? Yes, in the positive vibe it spreads around it. When music beautiful such as this comes around, it breaks through barriers and stop signs that I naturally have and artificially put around. No, break is not what it does. It simply passes by. Yes it still sounds saccharine sweet. But in this case, the music won the battle. Even though one would think their music would be simplistic, that is not the case. First of all, the arrangements of the song suggest otherwise. The music is rich in sound, layers of instrumentation are found aplenty. There are ornaments that some of the instruments add in several songs (listen for instance to the piano playing in a song like Bluebells). The song structure is such that they develop the main theme, add more themes to accompany that one and link them all in a natural way. They make it sound easy to do, but I can assure you it's not.
You might think, two discs is too much, one could suffice. Well that could very well be and will differ from person to person (I for one am very happy with both). But having two sides doesn't mean there is a discrepancy in the level of the output and that it's just more of the same. The quality is kept throughout the more then 100 minutes of music here and one can easily think of these as two separate albums and listen to them separately. In fact they introduce variety here with tracks like In the Countryside, with a folk approach. There is an acoustic relaxation moment with A Tale Of Three And Tree. They even get more upbeat and more energetic and noisy than usual in tracks like in the instrumental Moonwalk and the song Yasgur's Farm. The song The Ghost Of Flowers Past has a spellbinding beginning with an eastern-like sounding short melody. A melancholic feeling seems to invade small spots in a few songs, done in delicate touches, as if having a "feeling blue" moment throughout this long album. The aforementioned The Ghost Of Flowers Past is an example for this.
I know very well this album can be too much for some, too sweet or even too artificial. This is not an album for everyone. If this sort of music described above turns you off, walk on by. If you liked their first album, definitely get this one. If you like a peaceful, cheerful, charming and cute type of music, with emphasis on vocal harmonies and lovely tunes, do give this a try.