The oddly named
Assemble Head In Sunburst Sound
is another psych band I discovered in my journey through the
Tee Pee
catalog.
Based in San Francisco, this group formed from the core of Jefferson Marshall (guitar, bass), Charlie Saufley (guitar, bass), and Michael Lardas (drums). On this album, the lineup expanded to include Anderson Lanbridge (theremin, moog) and Camilla Saufley (keyboards, bass, vocals, flute) as well as Tim Green (vibraphone, e-bow, drums) and Cindi Kazarian (viola) and the following contributed vocals: Christina Monsfield, Brett Constantino and Evan Reese.
When Sweet Sleep Returned is their third album, released in 2009 and following the jump you can read my review of this release.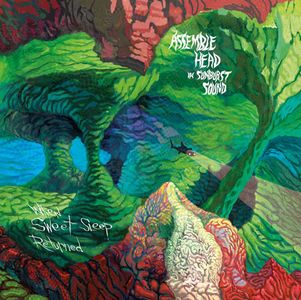 Movies about time travel are abundant, yet we all know that a time travel machine doesn't exist. Or does it? If one listens to bands such as Astra, Diagonal, Future Kings Of England and the likes, one gets the impression that time travelling might be responsible for the uncanny precise sound-alike nature of the sound of these bands. Not only do they play in the same vein of past psychedelic rock bands from the late 60s' and the 70s', but they sound just like them. I mean, it sounds like a vintage recording, as if a long-lost recording has been unveiled and brought to light of day to grace us all and get its deserved recognition. Such is the case with the wonderful lush sound of Assemble Head In Sunburst Sound and their two albums so far. The NY based psychedelic and stoner-rock/metal focused label, Tee Pee, has released both albums by the band.
With their 2009 release, When Sweet Sleep Returned, the band goes on with their wonderful rich psychedelic sounding rock, their vocal harmonies, and their mix of Beach Boys, Pink Floyd and krautrock-like freak-out sessions and guitar soloing. This San Francisco based band brings back to life, or rather carries on the spirit of an era, a movement, and a sound and style that I personally adore and am addicted to. They do no succumb to lengthy (and often pointless) noodling and over-done jamming. Instead, it is done in a concise form, where relative short songs are performed, vocals echoing well mixed in the sound and not in the front, with the whole messy and raw sounding (but very much appealing) full blown sound. Their succinct song crafting style, making relative to the point pieces is a good idea for those who tire from long and unending jams. Though I would have loved for several songs to go on. The music is quite fast on average, there's not much dynamics as it stays pretty much at the same intensity levels and tempo throughout each song (and overall) and those are highly energetic. It might sound all too same-y to a casual listener, but repeated listening will reveal what each song holds. For instance, The Slumbering Ones, being a slower than usual song, has a haunting harmonic vocal line and a beautiful underlying melody supporting it, with fantastic keyboard treatment; whereas, Two Stage Rocket, is a more straightforward rapid mind-wobbling piece. I have great time listening to this album; its cheerful spirit and upbeat sound is most welcome as is its captivating atmosphere.