Simon Steensland
is a Swedish composer and self-taught multi-instrumentalist, though he started as a drummer at the age of 17. He releases both solo albums as well as composing for theater. His first solo release was in 1993, The Simon Lonesome Combat Ensemble, which he then followed up on with more albums, each of which had several usual musicians playing: drummer
Morgan Agren
and keyboards/piano player
Mats Oberg
.
The music was said to combine elements of jazz, neo-classical, rock and folk with a wide variety of instruments and to be influenced by
Univers Zero
,
Art Zoyd
,
Present
etc.
Here is a review I've written last year about his latest album to date, Fat Again, out on the exceptional label,
Altr0ck
.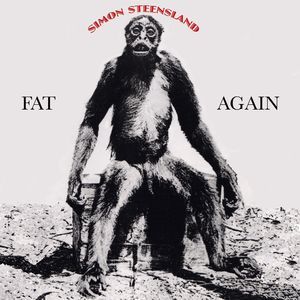 Having received this album from
AltrOck
, I realized I have been "ignoring" Simon Steensland albums long enough and I should get some of his former albums to better understand what all the fuss is about and what his music is like, having read interesting things about it. So I set out and got The Simon Lonesome Combat Ensemble (1993), The Zombie Hunter (1995) and Led Circus (1999). All of these were fine releases and in my opinion got better as they progressed chronologically. But they are not the subject of this review here.
Simon Steensland who plays here multiple instruments (bass, keyboards, guitar, glockenspiel, harmonium, cello, banjo) has been working on this release for 3 years, from 2005 to 2008 and has several musicians playing with him here: Robert Elovsson (keyboards, clarinet) and Morgan Agren (drums) both from Mats/Morgan; Einar Baldursson (guitars) from Gosta Berlings Saga; Arvid Pettersson (Fender rhodes, accordion); And a whole group of female vocalists: Aurelia Le Huche, Eva Rexed, Helena Ahlback, Ingrid Gustafsson, Sara Nygren, Anna Nygren, Elvira Van Halen, Moa Zerpe, Lotta Ostlin Stenshall, Ellekari Larsson, Birgitta Steensland.
Fat Again, out in 2009 on the fine and growing Italian label AltrOck (where luminaries like Yugen, Rational Diet and miRthkon released albums through), is a delight to listen to. With chamber prog (Thiking Plague and Univers Zero, albeit more upbeat and rough) and zeuhl influences, as can be clearly heard in the opening and closing pieces (Der Klang Von "Musik" and The Lion Tamer), superb musicianship (fantastic bass playing and drumming), this album presesnts variety in moods; from uplifting and upbeat moments to highly dynamic and darker sides; from frantic pace and style to calmer and peaceful elements prevailing through.
Just by the first composition alone which I mentioned above, I can tell Simon is a very well accomplished composer that knows very well how to set a musical scene; how to plan it and execute it to the very fine details; how to make it flow seamlessly from one section to another, where each is dominated by differing elements. These two lengthy opening and closing tracks engulf seven short pieces and one medium length composition. And these are not too different from the lengthy tracks. In fact they continue their style and mood and develop them. For instance, Lost In The Ark, has female voices chanting together, with a guitar in the background and some eerie sounds as well, creating a somewhat spooky and weird mood. This escalates in Merde!, where a Thinking Plague-like sound comes in as the whole female choir sings together with the bass playing a long tone and the drums insanely going about. And all this takes only 25 seconds! Then Memories of Jan Josta comes in with again the bass giving the dominant tone here, and Univers Zero and Thinking Plague influences coming through. The keyboards here add a nice touch, though they are a bit low in the mix. And while it is a short track, it is nicely developed and satisfying. The Queen Of Sweden is another frenzied track, with a groovy melody line, followed by another very short piece (Petite Merde) that in a way serves as an intro to the final 20 minutes piece. This again, has a very dominant bass line and drumming and a structured melody line with a very rich arrangement done by Simon. The piece progresses and develops nicely from one section to the next.
I must really mention the great drumming work done here and the splendid bass work along with the efficient keyboards playing that gives the music the much needed peculiar and special atmosphere. This was a very nice and pleasant surprise for me to listen to this wonderful album, a great find and a highly recommended listening experience for those who like chamber prog, zeuhl and bands like
Univers Zero
,
Thinking Plague
,
Magma
and
5UU's
.
You can read a much better review of this album written by my friend
Raffaella