Make A Rising
are a band from Philadelphia, playing odd, quirky eclectic rock (avant-rock if you will), with catchy musical phrases pronounced in unconventional manner.
Following the jump you'll find my review for their 2008 album,
Infinite Ellipse And Head With Open Fontanel
.
Do check both their albums.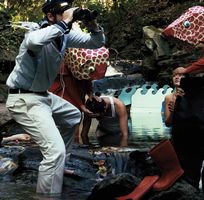 Music that words can't describe
This is a sentence I come across often when listening, writing or talking about the bands and musicians I listen to. Not only is it hard (or almost impossible) to pinpoint then into specific genres (one will almost always not be enough) but to actually describe what they play is a daunting task for me. And this is before I said anything about it being good or bad. In this case, it's very good. It's even brilliant! This album has many of what I adore about music. It's refreshing, original, varied, interchanging, dynamic, explorative and experimental. It's all that, plus well played, well structured and appealing melodies. That's it, you can stop reading here and go listen to their music on their website and myspace and listen for yourselves. Or you can continue to read on if you want to know more.
But to come back to the issue, if there ever was a band I couldn't write easily about, describing their sound and style,
Make A Rising
would be it. A band that has come to create a sound of their own, which while making some references to other bands, is quite unique and very original in their approach and in their musical output. Filled with contrasts and twists, it is music that I love to listen to as it's filled with fun - not fun in the sense of goofy or humoristic music but fun in the sense that I feel uplifted listening to it. I am at a loss for words to describe their music; it is music to nicely fit under one tag, no style to apply to describe the myriad of sounds that appear in their albums. Make A Rising create not only a cross- genre approach, but also a great mixing of all of those into something that is rarely, if at all heard.
If asked what other bands come in mind when listening to them, again I find myself at odds; there are no immediate comparisons, but there are certain smaller pieces that I can find similarities to the likes of Time Of Orchis (vocals), Pochakaite Malko (use of folkish-elements and the building of an original and quirky style), Kayo Dot (the atmosphere on some of the songs), Cerebus Shoal (in the oddness and quirkiness of other songs) and even Sleepytime Gorilla Museum (some more theatrical side and also heavy riffing parts). There are other comparisons to be made, but the main point would be that all those references are for specific smaller parts in their music and when looking at it as a whole, they have a great sound of their own.
This being their second album, Make A Rising progresses on from their previous album both in production and in compositional style; the latter is built on what was done in the first album and going on from that point onwards. This album, much like the previous one is made up of songs which flow naturally one to the next, while each one has its own distinct identity. The style and rhythm varies between each song and also within the songs. Not only are those different styles mixing together wonderfully, but they're done very well. The variety also comes into play in the instrumentation that includes apart from the usual rock repertoire, piano, accordion, saxflute, trumpet, cello, marimba, flute, clarinet and violin. This is well heard in the special theatrical and, for lack of a better word, ethnic sound. There are songs, like "Woodsong Pt. 1", that have the classical instruments playing alone, adding another great facet to their sound repertoire. The continuation of this track in "Bradford's Big Boatride" is even better as they electrify the previous part, achieving what is to me their best song here; here they create what is a fascinating and excellent mix of most of the sounds appearing on their album, vocals harmonies, great guitar riffing, classical instruments giving their emphasis, brilliant and catchy chorus, fantastic composition overall combining the best of all they do throughout the album. There is so much going on this a bit longer than 4 minute song that it's such a joy to listen to. They could practically build a small concept on those 4 minutes alone.
What I particularly like is the contradiction they create with their heavy and complex parts and the quieter parts. It is less used here than their previous album. Their use of the classical instruments in both placements and making them suited to those is also very well done. Listen to how the violin is used in both settings. I also am in love with the complex and abrupt changes of rhythm and style, combining them effortlessly. This album also sees them showing their noise-making and improvisation skills ("How's 'bout A Love Supreme"), very well done, and I think they should expand on that as well in the future releases.
The band here shows how skilled they are, and how varied are their influences. They also show that they know how to take a previous achievement (their first release) and improve on it. I have great expectations from their next release based on this.
I feel I haven't done justice to this wonderful album in my review. If at all I feel I've diminished their achievement with my mumblings. This is a fabulous album, one that is already on the top of my favourite albums for this year and is quickly becoming a personal favourite, regardless of year.