With most albums, I connect mostly with the music, the sounds the emanate from the speakers/headphones, the ambiance, the tones and noise, the melody and texture and occasionally the voice of the singer.
But with some albums I connect with the lyrics.
Not that I don't like to sing along with songs that I don't identify with, or are plain silly, but those don't create an emotional bond, an unbreakable link between what is sung and how it impacts me.
But with some albums, that lyrics come across the musical plains and grab me.
One such album is this one by the highly talented
Matthew Parmenter
, whose two solo albums I discovered through his band,
Discipline
, which in turn, their album, Unfolded Like Staircase is one of my favourite albums.
Astray
is not as ambitious sounding or complex as Discipline's music, but it is as captivating and beautiful. And I find Matthew's voice magnificent and haunting.
After the jump is the review of
Matthew
's 2004 solo release Astray.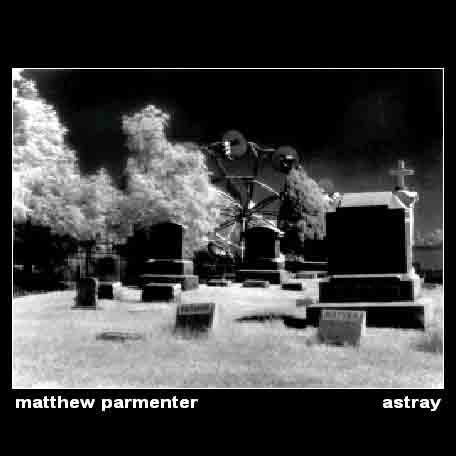 Have you ever felt your life has been going off-course? Do you feel that despite your efforts and wishes you have come short of achieving your goals, out of tune with your life? The seven songs in this album by Matthew Parmenter present each a story of such a case; seven tales of being and feeling Astray.
After being completely captivated by Unfolded Like Staircase, the album by Parmenter's band, Discipline, I decided to get his solo output. I thought it would somewhat simpler, less dense and layered than Discipline, but what I hear here, while not as complex and intricate as Discipline's material, is nonetheless, as rewarding, rich sounding and well done. Matthew Parmenter sings and plays all the instruments (and there are a lot of those accounting for the rich layering) aside from the bass, played by Mathew Kennedy.
In fact, Astray has quickly risen to be a personal favourite of mine. Each of the seven songs has a simple basic theme to it, which is then expanded into a wide musical landscape depicting a story and emotions. The way Matthew sings the lyrics merges perfectly with the melody. The pathos in his voice in convincing as if the story told is his own. The melodies start out in a simple yet charming way, often with the use of the piano, and are then built upon with additional layers of instrumentation, though not excessively, and building up to emotional climaxes.
There is a verse-chorus-verse basis but it is played around with, to not sound straightforward, so as to not be dull. The result is an album that manages to sound personal, beautiful and simple and yet be elaborate and varied. The opening song, Now, is the best example of a relatively simple tune that is developed further and built upon with more layers; it ends up in an lush sounding instrumental segment where the main theme is initially played on piano and then joined by the drums, bass, guitar and mellotron.
This delicate balance is well maintained throughout the album, even in the closing 21 minutes song, Modern Times, which may be the most Discipline-like song here in scope and to a lesser extent, in writing style. A superb song, it runs the gamut from the simple piano lead section to full-blown progressive rock epic with rich instrumentation and magical instrumental segments.
The most simplistic structured song is Just Another Vision, but it as well, along with its lyrics, is a beautiful song, which doesn't change its pace and in which the chorus and verse have the same melody. The organ here adds a richness that lifts the whole song up a notch and along with the vocals have a hypnotic effect. The same mood is continued in Some Fear Growing Old, which again, doesn't show much diversity in terms of composition, but more so in terms of instrumentation, where, for instance, the violin makes an appearance. The level of intimacy is deepened with the beautiful and highly emotional song, Between Me and the End, where Matthew accompanies himself on a piano (except for two moments where more vocals and a saxophone join in), singing about his loneliness, a sensation of being lost, astray and of not much to live for, feeling near the end.
To continue this, there are, not surprisingly, similarities in sound to Discipline, particularly when it comes to the powerful sound of the keyboards which are a dominant part of Unfolded Like Staircase and the same is true here (organ, mellotron, synthesizers, piano),. Matthew uses these to create a melancholic and gripping atmosphere, with long brushes to accompany his singing; he then uses them to draw a more precise and detailed picture as they come to the front and lead the composition. The additional instruments play a significant role as well, contributing distinct parts and ornamentations; such an example is the marimba in Distracted.
On a different note, I take my hat off to Matthew for the making this album sounding so well and tight, especially condering he played all instruments except the bass, and managed the engineering and mixing roles.
I hope I got my enthusiasm of and love for this album through this review. It is a beautiful and striking intimate album, and for me serves as much a way to connect to personal pain as it is to serve as a cleansing experience.