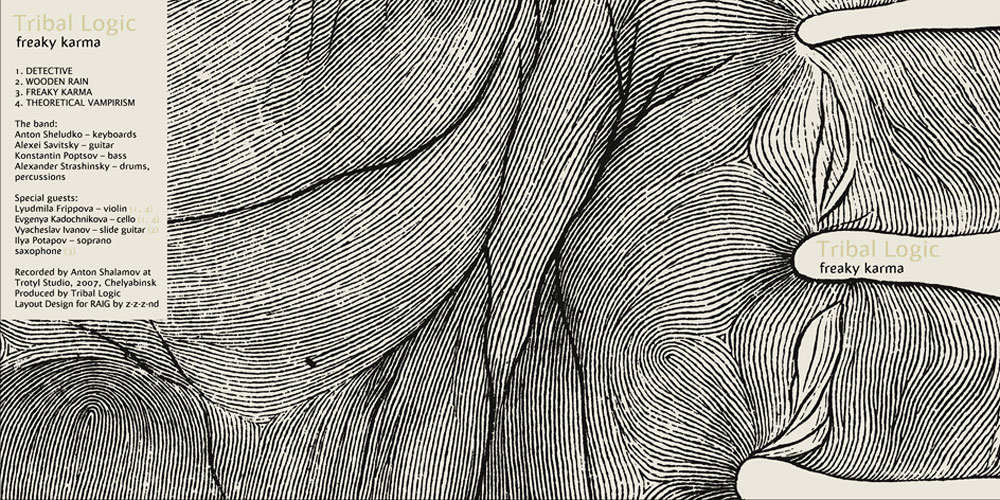 After the likes of
Sendelica
,
Gdeva
and
Motherfathers
here is another release of a like-minded band, though much more versatile and varied in style.
Tribal Logic
, a four-piece band from Chelyabinsk, delivers a fascinating instrumental journey into their musical mind; it goes through different styles and sections, various sounds and moods, shows good musicianship, a cohesive form and an ability to perform well whatever it is that they choose to play.
The first track "Detective" starts with a spacey-rock and ambient intro and then switches shortly to a jazzy sounding part immediately following it opening the way for the avant-garde influenced section (reminding me somewhat of Roz Vitalis).
With all of that in one track (and the same is true for all 4 tracks on this album) the listener gets an enjoyable lengthy instrumental trip as the title suggests.
Their sound is quite mesmerizing and haunting in a slightly eerie but pleasant way. Sounding as if they're jamming on a pre-conceived theme, the music flows on, as if not going to stop and it incorporates all kinds of styles and sounds (from jazzy rhythms to vintage prog rock sounding keyboards to psychedelic jams to avant-garde sections).
The second track "Wooden Rain" is a good example of the jamming concept; the keyboards and guitar are playing around the main theme with the bass giving a strong and noticeable presence to back them up. This track opens with cool keyboards fooling you to believe this is going to be a 70's inspired prog-rock song, but it then changes to the aforementioned groovy rhythm and jam. The title of the album is very appropriate here as they do go on a "freakout" with the almost repetitive playing; this could easily serve as chilling music to relax to.
In "Freaky Karma" there's a groovy and bouncy rhythm that starts more than a minute into the track. It's a well done light and jazzy saxophone lead section that then switches to a different segment; a more rock based approach, heavier and more intense with variations and interludes that keep things interesting.
"Theoretical Vampiricism" has a haunting keyboard theme (organ sound) that both opens and closes this last track in the album. The first segment of this song is in a gorgeous 70's prog rock inspired symphonic-rock/fusion form; the bass adds a wonderful basis to the sound and the keyboards provide a wonderful "aroma" along with the efficient drumming. Interestingly enough it doesn't change style as in the other track right away, but after four minutes you can hear that they start to build something else, taking away a bit from the magic and special atmopshere and adding a more jam-like mood (always on the verge but never attaining it). Then at about 7:30 minutes in starts the next section, which flows naturally from the preceding part and which will eventually achieve a minimalistic peak of a solo piano-sounding keyboard which only serves to add to the enchanting feel of this long track. There is much more going about and there's no use in describing it all. Suffice it to say it's very well done and this track alone shows very well how flexible this band can be with regards to the sounds they produce and styles they play. Let me just add that the violin and cello that join in later add to the already special experience this tune presents. This is my favourite piece on the album.
Taken together, these four tracks can sound as if played by different bands. The variety here is impressive; but just playing in various ways isn't enough; indeed there can be too much "noodling" around such as in "Wooden Rain". But, they can create elaborate and fascinating melodies; Theoretical Vampiricism is a great example and you'll find more of those ingredients throughout the lengthy 3 other tracks on this album.
If you'd like a diverse instrumental and experimental album and like long and multi-section tracks, then I suggest listening to these talented guys.