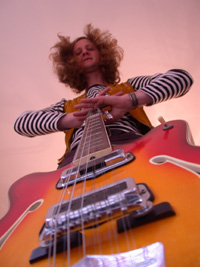 Late at night or when I have a craving for something quirky, I reach out to the two albums by
Andrew Douglas Rothbard
.
Mr. Rothbard's music sounds is best experienced with closed eyes in low lights or complete darkness. If it won't freak you out, it will give you out-of-body experiences.
Having played bass and keyboards in other bands (
VSS
,
Pleasure Forever
), he then began recording his own music.
You can stream both albums on his
Bandcamp
.