This four piece instrumental band from CT, USA has released two albums of the heavy brand with several underlying elements such as a spacey and psychedelic atmosphere, stoner-rock elements (listen to the last track on Snakecharmer), fusion segments emphasized by the bewitching cello and an overall encompassing and enveloping sound that takes me away while listening to far away places, surrounded by mountains of crushing riffs and deep evoking rhythms and the alternating uplifting or mesmerizing string instrument playing.
The music presents spacey segments and psychedelic elements ("Bastard Son", "Snakecharmer"), upbeat and energetic melodies ("Divine Machine"), heavy rock with long brooding riffs ("Bastard Son") and gripping themes ("Snakecharmer").
Their music involved starting with a fixed theme and then veering out from it into new directions, creating exciting new possibilities for it and occasionally coming back to the original idea.
The first track, "Divine Machine", starts off bouncy and happily with the guitar and electric cello at the front, playing a catchy melody, greatly enhanced by the rest of the lineup. The track has a propulsive rhythm to it, hard to not be gripped by.
"Divine Machine" links uninterrupted and very naturally into the second piece, "Whiskey and Hookers", creating a great flow to the album as a whole. It continues with a lighthearted theme that seems to carry on the mood of the melody in the previous track. It does rock, however, as it gets heavier at parts with crunchy riffs surrounded by cello-fronting moments with its delightful charming and happy sound. This alternation between serious and heavy to more lighthearted and fun is another aspect of Cargo Cult Revival's special sound.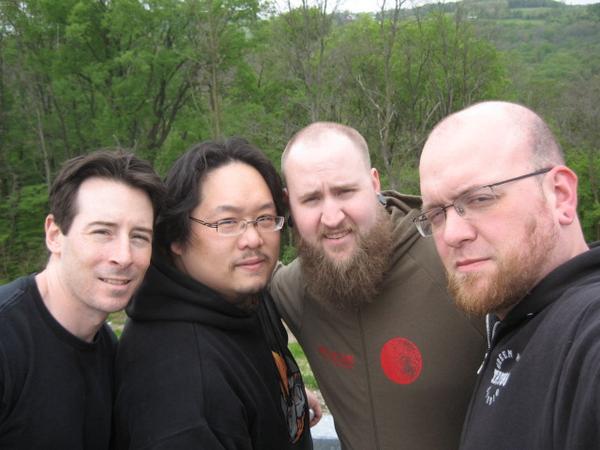 The title track, "Snakecharmer", is a 38 minute piece. At its core lies a simple slow spacey droning theme with long and heavy guitar riffs, that is the basis for the explorations and different directions the music takes off from and keeps coming back to. The "take-offs" plunge into more dynamic and quicker terrains, very different from one another; this creates the epic proportions of this track, as you get a variety of musical excursions all interconnected by this core theme. The "excursion" at around 26 minutes and the last one beginning at 30 minutes into the track are beautiful and catchy, hypnotic and even mesmerizing. The last one is the pinnacle of the album with the power it presents and the effect it has on me the listener; a simple, yet evocative melody and dominant line. Well worth the long way it took to get there. This part can indeed charm even snakes as the title of the piece says.
"Bastard Son" closes the album with a noisy, heavy, psychedelic dirty sound, which is moderate in pace but nonetheless energetic and powerful. Though I would prefer ending the album with the title track and not this one, it does fit as a closer as it manages to clear off a bit the effect of the long and hypnotic title track with its more crude and simplistic approach. This is a fun tune with its sludgy sound and the cello part mingles in effortlessly.
Snakecharmer
is a highly enjoyable album, recommended if you like instrumental pieces, with a sense of adventure and an experimental edge. Looking forward to more from this band.
Update - the band has disbanded apparently. Too bad.
Myspace
Prog Archives entry
Label -
Forgotten Empire
Their album was available
here
, but it's out of stock now and probably out of print.
Their first s/t EP is also good and recommended.