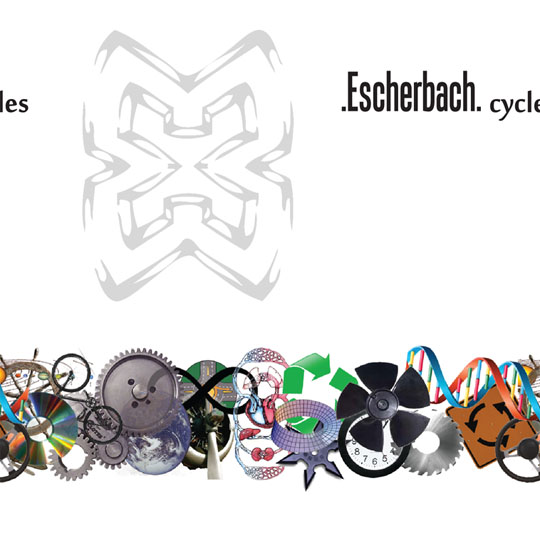 Escherbach
is a trio from Indiana, and play mostly instrumental energetic progressive rock. Its sound is crispy and clear, fresh and vibrant. Neil Carmichael (guitar), Minkis (bass) and Sean Norris (drums) were in a band called Eargazm, with singer Mike Levee. However, when Levee left town in 2007, the remaining three musicians decided to go on as a trio, play and write new material and renamed themselves Escherbach, after artist M.C. Escher and composer Johannes Sebastian Bach. They then recorded a demo with their friend, Nicholas Schmidt, a musician as well as the engineer and producer of this album. When returning to it after a year they decided to release it as
Cycles
in 2008.
While you might think, "oh it's a demo, or just some weak recording session of an up and coming band, so it's not worth my time", I'd ask you to reconsider and keep reading. Production-wise, this doesn't sound like some cheap made demo, rather like a band who plays well and know what music they want to make and what sound they're after.
Catchy is the name of the game here. The melodies are simple but the execution goes out to make them interesting and compelling. With the basic theme presented in each track, they take it and turn it with added sections into memorable rocking-out themes. They play around with heavy rock sounds like the into of Trichotillomania and then move on to a more spacey rock theme, even somewhat jazzy in style. They do this naturally and the flow is very good in this aspect. One might find influences of Rush and Led Zeppelin They introduce variety in their music. For instance, in McFly!!! with its heavy rock main theme and then the quieter interlude in the middle and then the jazzy section with the guitar solo.
There is some very good musicianship, particularly the drum work by Sean Norris, which I find very stimulating and varied. The bass work by Minkis is also very good, dominant and carry well the weight of the music. Also the guitar work by Neil Carmichael, again varied in style and sound, is powerful and captivating; it can be rough and crude and then light and gentle. The vocals such as in Back 9, are of the high-pitched kind and while not bad, are not, in my mind, suitable or do a favourable service to the music. Another thing is that the track Marty Meets Stella, while being a sort of break in the pace and a filler, could have been discarded in my opinion. It's Carmicheal and Schmidt conversing and drinking beer in Schmidt's backyard, with a guitar playing background.
Along with other instrumental bands of this ilk, such as Capharnaum, Karcius (two first albums) and Speechless, they present a melody-oriented fresh sound of rock that seeks to develop and go forward by incorporating new elements into their music, but not at the expense of catchiness and appeal.
All in all,
Cycles
is a real fun album to listen to, refreshing and enjoyable, with good hooks and musicianship. Nothing groundbreaking, but fun, catchy, energetic and worth my time.
The band will be releasing their EP, The Dawn soon.