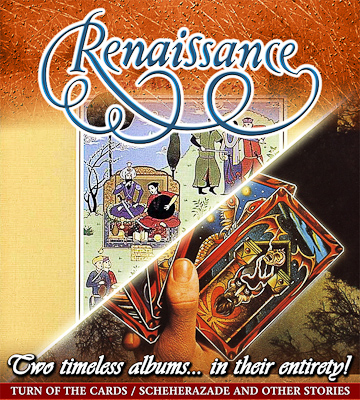 From the band's
website
:
Renaissance Announces Fall Tour Dates:
Band To Perform Two Of Their Most Successful Albums in Their Entirety
Band takes On New Management
June 1, 2011 – New York, NY – Progressive British rock band Renaissance announced that they will be performing two of their most successful albums, 'Turn Of The Cards' and 'Scheherazade' in their entirety on a Northeast US tour this Fall.
Band principals Annie Haslam and Michael Dunford noted, "When our agent Wayne Forte (Entourage Talent Associates) and new manager Bruce Garfield suggested that we present to fans the 'evening with' and two complete albums concept, we loved it immediately and picked two of our favorites. Fan reaction has been great as are early ticket sales".
The band recently enlisted manager and former label executive Bruce Garfield of MonsterWorks, Inc. to take over guidance of their career. "I love the musical elegance of Renaissance and have always enjoyed taking on clients with established track records with whom I can work closely and maximize the full potential of their career."
The first leg of the band's Fall tour will take place in the Eastern United States as follows:
September 13 –
Buffalo, NY
– The Tralfamadore
September 15 –
Rochester, NY
– German House Theater
September 16 –
Norfolk, CT
– Infinity Hall
September 17 –
New York, NY
– The Concert Hall
September 20 –
Annapolis, MD
– Ram's Head Onstage Theater
September 22 –
Alexandria, VA
– Birchmere Music Hall
September 23 –
Philadelphia, PA
– Keswick Theater
September 24 –
Newark, NJ
– Victoria Theater
www.renaissancetouring.com
www.facebook.com/RenaissanceTouring