Voice of the Seven Woods
is a project created and lead by Richard (Rick) Tomlinson, a Manchester based musician with Chris Walmsley. He has released several 7", EP's and CD-R's and a full length in 2007. Also, look out for his newest release,
Voice of the Seven Thunders
.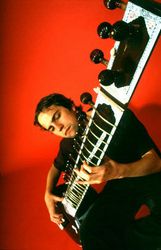 To describe the music, here's a quote from Rick himself: "Pentangular acidic folk polymath fuses Turkish psych and Krautrock influences...". As one online review proclaims, the s/t EP is a "plundering a record collection that evidently includes sizeable jazz, tropicalia and Krautrock sections for inspiration".
The music is a folk based psychedelic journey that encapsulates the magic of krautrock and a flavour of eastern and Arab musical fragrances.
The s/t full length from 2007 is recommended for listeners who like a very well done mixture of ethnic folk with the right amount of psychedelia.
Rick intends on releasing material under his own name in the future, and thus put the VOTSW project on hold for the time being.
Visit his Myspace to listen to VOTSW music -
http://www.myspace.com/voiceofthesevenwoods
Release date: August 2007
Label: Twisted Nerve
Catalogue No: TN077
Format: 12" Vinyl LP & CD
Guitars, vocals, sitar, oud: Rick Tomlinson
Drums, percussion: Chris Walmsley
Bass guitar, violin: Pete Hedley
Artwork: Andy Votel
Gatefold photography: Dominic Thomas & Mark Winkley
Those woods have a spellbinding voice
Rick Tomlinson is responsible for this project and has so far released several cd-r's and ep's under this monicker. This is probably the first proper full-length release; and a fantastic one at that.
What a trip! Literally. You have much to absorb here; from folk through psychedelic parts to krautrock inspired and freakout bits to eastern influenced sounds. Tomlinson music is as accessible as it is beautiful, haunting and inspiring. Fantastic "carving" with his guitar (and other instruments like a sitar) an eastern sounding mystical, ethereal path, Tomlinson knows how to blend beauty with psychedelic elements in a rather simplistic yet effective way. The sense of aesthetics is not a miss here. It's all woven together perfectly, giving the impression of a continuous musical story line, a journey of sorts. With the instruments, the music goes from calm and pensive to more agitated waters of fast and loud wall of acoustic sound and on to fantastic "freakout" electric psychedelic parts, again tainted with an oriental sound. It is not only the instrumental parts, but also the spellbinding vocalizations (either sung or semi- spoken) that have this effect on me; they fit superbly with the music. It is so thrilling and captivating I find myself closing my eyes and letting it carry me away each time I listen to it. This is music you just feel you want to abandon everything behind and let it carry you away with it. It tucks you in, wrapping you with warm musical blankets (Sand and Glames); waking you up with an energy filling wakeup call (Second Transition); caresses you gently (Silver Morning Branches) and takes you on a ride (Satai Nova). What more can I ask from an album? No point in going on, if you haven't decided that you want to listen to this by now, then there's not much more I can say.
A great 2007 release that is quickly rising to be a personal favourite of mine. If oriental-fused krautrock, psychedelic "freakout" and acid-folk is your "thing", then I can't recommend this enough.