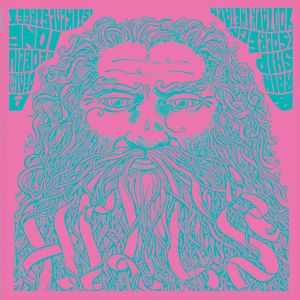 Hills
are a psychedelic rock band from Sweden, comprised of the trio of Hanna, Kalle and Pelle who each play an assortment of instruments on the album.
Intergalactic Tactics Records released this self-titled album in 2009 in a limited run of 300. A CD reissue came out on Sulatron in 2010.
I got to know this band through a recommendation in the
Progressive Ears
music forum. Having listened to the two tunes on their myspace, I was able to get the album from Kalle from the band for review.
An ominous bell announces the start of this mysterious journey, in the opening track, "Death 1", followed by a throbbing bass sound and soon the rest of the band. The style played, while sounding dated psychedelic rock, is quite appealing and alluring. That's a sense of danger and obscurity created by the music, enhanced by the contrast between the soft and enchanting sounding flute and the rawer guitar playing in the background. However, there is not much development in this first track and it goes on for several minutes and then ends. I'd have liked more progression of this theme and a buildup to something else.
The second piece, "Istiklal Street", while starting in a confident and thematic manner, goes on to become an abstract affair, with sound guitar and bass sound effects creating loops and strokes of sounds. However, things get more structured towards the end of this piece, order resumes and the original theme returns. It is in fact quite haunting melody that is well enriched with the additional layering of the flute playing and solo guitar.
"Ex Oblivione" starts abruptly with more psychedelic and spacey guitar ornamentation (a-la Pink Floyd, Meddle-era); there is no real melodic lead here, more of a mellow rhythmic pacing that gets slightly more powerful as it goes on. After the middle of this track, the melody becomes obvious as a voice hums to the music, with the guitar accompanying him. However, we are already at the end of this piece and it ends for some reason in a fade-out in the middle of the build-up. Again, I feel there was a chance to do more with this piece and the opportunity was missed. It could have been extended and developed further.
"You Talk The Talk" opens with a piano, quickly joined by an alluring drumming pattern, which then develops into a full-lineup beautiful melodic theme. The bass provides a powerful backing up rhythmic pattern and the flute participates in this role as well. I feel this track is closer to what I'd like to hear from them; creating a theme and mood and then slightly developing it, adding layers, changing a bit the direction etc.
The last track, "Rainship [Solregn]", is also the longest one on the album. It takes time to fully develop into the main theme, which is in fact a fast paced one. What I like about this track is the varied instrumentation used to embellish the music. The theme here, appropriately for a freak-out psychedelic session, doesn't change much and is a great listening experience. However, I'd have not put this track as the last one in the album; "You Talk The Talk" would have been better placed after it, but it's a minor point.
Hills is a fun album and as a psychedelic rock enthusiast I'm satisfied with it. But as I mentioned above, some of the tracks could use more longer playing time and additional development and build up. In particular, "Ex Oblivione" should not have been ended this way. There is great potential here and some of it is fulfilled (in parts of the tracks). I look forward to hearing more from the band in the future.